The High Carb Low Fat vegan diet is growing in popularity amongst people who want to enjoy the health benefits of a plant based diet whilst at the same time restricting their consumption of dietary fats and protein to manage their weight. Today we'll share with you 8 delicious high carb low fat vegan recipes and give you a brief overview of how this diet works.
What is a High Carb Low Fat Vegan Diet?
By definition, a vegan diet is free from animal products. This does not mean, however, that a vegan diet is healthy by default! It's perfectly possible to eat a vegan diet that is mainly made up of unhealthy foods filled with artificial ingredients.
A growing trend in recent years is to look for a vegan approach to eating that is good for your health and promotes fitness and weight loss. A high carb low fat (HCLF) vegan diet is a way of eating that is designed to achieve these aims.
On an HCLF vegan diet, between 75 and 80 percent of the macronutrients you eat each day should be carbs, with the remaining 20-25% split between protein and fats.
High carb healthy foods include starches such as sweet potatoes, quinoa, chickpeas, brown rice, oatmeal and lentils. Vegetables and fruits also form a vital part of an HCLF vegan diet and are a great source of healthy carbs.
How Much Fat Can You Eat?
So in practice, how does this diet work? How much fat and protein should you be eating?
A simple rule of thumb is to fill half of your plate with a starchy carbohydrate. You should also add plenty of colorful vegetables to your plate to ensure that you're getting enough micronutrients. After adding your favorite fruit to the mix, around 80% of the total calories in your meal should come from healthy high carb foods.
Fat and protein should make up around 20% of the calories in your meal, and can be added by including a portion of plant based fats such as nuts, avocado or tofu.
8 Great High Carb Low Fat Vegan Recipes To Try
One of the best ways to ensure success when transitioning to a HCLF vegan diet is to make sure you have a list of delicious recipes to prepare. Here is our list of great high carb low fat vegan recipes for you to try out.
Basil Seed Vegan Pancakes
If anyone ever tries to tell you that you can't make delicious vegan pancakes without eggs, whip up a batch of these! Using basil seeds in place of eggs, this recipe produces light and fluffy pancakes that are a perfect breakfast to enjoy on a high carb plant based diet.
Ingredients
1 cup of oat flour
1 cup of soy milk
1/3 cup of whole wheat flour or spelt
2 teaspoons of baking powder
1 large ripe banana, mashed with a fork
2 tablespoons of basil seeds
Coconut oil to grease the pan
Pinch of salt
1/2 teaspoon of cinnamon (optional)
Find the full recipe & instructions at One Green Planet.
Tofu Scramble Breakfast Burrito
These breakfast burritos are a great option for a weekend breakfast. They take a little time to prepare but trust us, the end result is absolutely worth it!
Ingredients
3 medium yukon potatoes, peeled and cubed
1/2 teaspoon of smoked paprika
1/2 teaspoon of dried oregano
1/2 teaspoon of turmeric
3 teaspoons of garlic powder
14 oz of extra firm tofu
3 tablespoons of low sodium soy sauce
3 tablespoons of nutritional yeast
1 teaspoon of onion powder
1 cup of grape tomatoes, halved
3 cups of fresh spinach
4 large flour tortillas
1 avocado, diced
Hot sauce
Kosher salt
Olive oil
Ground pepper
Find the full recipe & instructions at Tasty.
Creamy Mushroom Risotto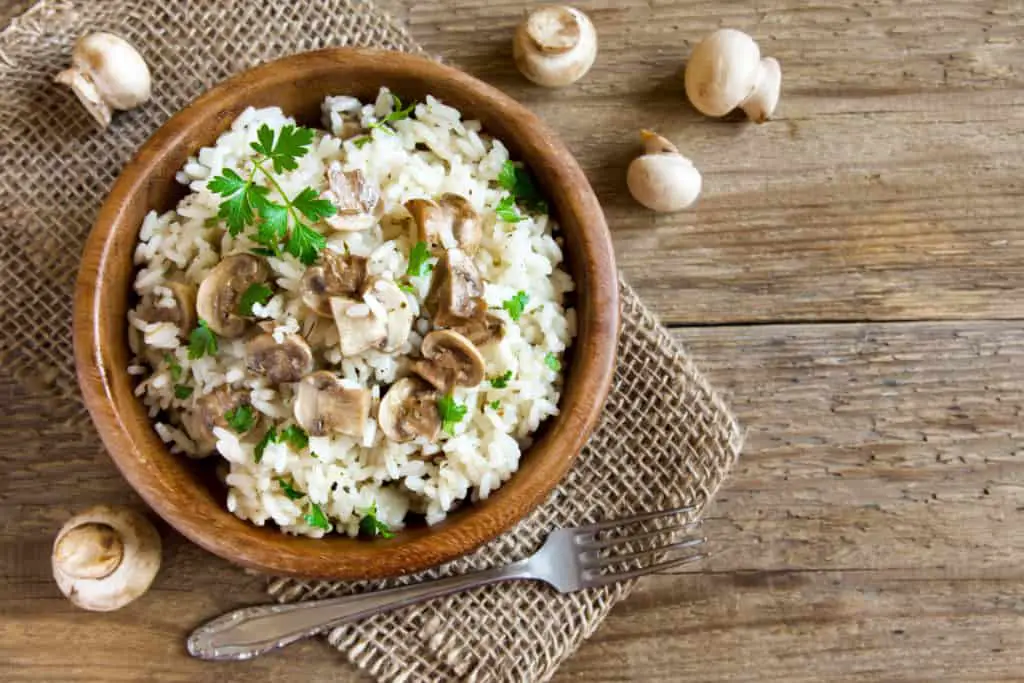 Quick and easy to prepare, this mushroom risotto recipe has a delightful creamy texture that a lot of people don't believe you can achieve with vegan cooking. Add nutritional yeast to give this dish a subtle 'cheesy' flavor.
Ingredients
1 tablespoon of olive oil
1 shallot or half of a diced white onion
3 garlic cloves, minced
100g of button mushrooms, thinly sliced
100g of risotto rice
500ml of vegetable stock
1/2 tablespoon of white wine vinegar (optional)
4 tablespoons of nutritional yeast flakes (optional)
Fresh parsley
Salt
Ground black pepper
Find the full recipe & instructions at Wallflower Kitchen.
Coconut Flour Cauliflower Tacos
An excellent example of a healthy food with high carbs, these tacos are delicious as well as good for you! Give these a try for your next Taco Tuesday.
Ingredients
1 medium cauliflower, cut into florets
2 tablespoons of organic cornstarch
1/4 teaspoon of baking soda
1/4 teaspoon of salt
1/4 cup of non-dairy milk (almond is the recommended choice for this recipe)
1/4 cup of panko breadcrumbs
1/4 cup of unsweetened shredded coconut
3/4 teaspoon of paprika
1/4 teaspoon of cumin
1/4 teaspoon of turmeric (optional)
1/2 teaspoon of salt
Fresh ground black pepper
Find the full recipe and instructions at One Green Planet.
Vegan Fiesta Salad
This quick and easy 3 bean salad dish is a perfect lunch and a meal that we especially recommend for a hot summer's day!
Salad ingredients
15 oz can of black beans, rinsed and drained
15 oz can of kidney beans, rinsed and drained
15 oz can of cannellini beans, rinsed and drained
1 yellow bell pepper
1 red bell pepper
10 oz pack of frozen corn kernels
1 red onion
1/4 cup of fresh cilantro
Dressing ingredients
1/2 cup of red wine vinegar
1 lime, juiced
2 tablespoons of maple syrup
1/2 teaspoon of salt
1 clove of garlic, minced
1 tablespoon of ground cumin
1/2 tablespoon of crushed red pepper
1/2 teaspoon of chilli powder
Find the full recipe and instructions at High Carb Hannah.
Vegan Chickpea and Lentil Curry
Packed full of healthy carbs and protein, this dish is a perfect winter warmer that is guaranteed to leave you satisfied and feeling nicely full.
Ingredients
1 tablespoon of olive oil
1 medium yellow onion, chopped
3 cloves of garlic, minced
1 medium green chilli pepper
1/2 tablespoon of chopped ginger
2 teaspoons of ground cumin
1 teaspoon of turmeric
1/2 teaspoon of garam masala
1/2 teaspoon of ground coriander
1 medium green bell pepper, chopped
400g of chopped tomatoes
400g of cooked chickpeas
120g of red lentils
200 ml of vegetable stock
Juice of half a medium lemon
1/4 teaspoon of sea salt
1/4 teaspoon of cracked black pepper
75g of spinach
Find the full recipe and instructions at The Last Food Blog.
Vegan Sushi Rolls
No fish, no problem with these oil free homemade sushi rolls. Recreate the taste and texture of sushi with this simple to make recipe.
Ingredients
Nori Sheets
2 cups of Sushi Rice (or medium grain white rice)
2 1/4 cups of Water
3 tablespoons of Rice Vinegar
3 tablespoons of Sugar
1 tablespoon of Mirin (or white wine)
2  teaspoons of Salt
1 Cucumber, shredded
1 Red Bell Pepper, shredded
1 Carrot, shredded
1 Avocado, shredded
Soy Sauce 
Thai Sweet Chile Sauce
Toasted Sesame Seeds
Find the full recipe and instructions at Brand New Vegan.
Vegan Low Fat Fudge Brownies
If you have a sweet tooth that you want to indulge with something more decadent than fruit, but want to stick to your high carb low fat vegan diet, this recipe is for you. Made using sweet potato, these brownies are easy to make and so delicious that you won't believe they're so low in fat!
Ingredients
15 pitted Medjool dates
3/4 cups of water
3/4 cups of baked and mashed sweet potato
1/2 cup of cacao powder or cocoa powder
1/2 cup of oat flour
Find the full recipe and instructions at Feasting on Fruit.